Red Copper shot/copper cut wire shot
Product Detail
Product Tags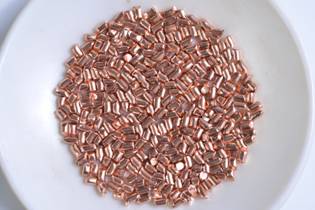 Product Detail:
1. Removes flash up to 0.20" from die castings without damaging the surface
Reduces wear and tear on blast equipment
Removes paint and other coatings without damaging the surface of the part
Thin film of zinc is deposited on steel parts during cycle providing short-term rust protection
Most suitable abrasive for deflashing magnesium die castings
Best choice for die castings with fine detail or delicate areas.
2. The red copper cut wire shot as the casting additive agent, widely be adopted.
Key Specifications :
| | |
| --- | --- |
| Name | Red Copper shot/copper cut wire shot |
| Chemical composition | Cu:58~99% |
| Micro hardness | 110~300HV |
| Tensile strength | 90~120Mpa |
| Owen's life | 6000 times |
| Microstructure | Deformed α |
| Density | 7.1g/cm3 |
| Bulk density | 4.1g/cm3 |

Application :
1.Used for the copper and copper alloy filler rods.It is applied to the surface spray treatment of copper and stainless steel workpieces, which has a significant coloring and brightening effect on the surface of the workpiece, and can show a pure golden yellow color.
2.Use in the bronze welding (brass welding) of copper, cast iron, and malleable iron and for the fusion welding of materials of the same or closely similar composition.
3.Intended for use in bronze welding (brass welding), cast iron or malleable iron.
4. It is widely used in surface treatment such as descaling, burr removing, elimination of surface defects, internal stress relief, etching, matte , leveling, strengthening and rust prevention before applying in the metal die castings, precision castings, hardware & tools, machinery manufacturing, auto parts, instruments & meters, pumps and valves industries.
5. Cu granules are an ideal metal evaporation material for PVD.It is widely applied in electrical appliance industry, such as wire, cable, all kinds of electrical equipment. Also used to make all kinds of alloy, such as brass, bronze, copper and so on.Meanwhile, it can also be used to make high purity metal alloy smelting, high purity metal compound preparation, crystal preparation and other fields.
---
Previous:
Aluminum shot/cut wire shot
---
Write your message here and send it to us