Aluminum shot/cut wire shot
Product Detail
Product Tags
Model/Size: 0.6-3.0mm 
Product Detail:
Aluminum cut-wire shot (Aluminum Shot) is available in mixed aluminum grades (4043, 5053) as well as alloy grades such as type 5356. Our mixed grades yield middle B range (Approximately 40) Rockwell hardness while type 5356 will yield high Rockwell B hardness in the 50 to 70 range. Applications include cleaning aluminum or other non ferrous castings that require a satin type but must also capable of removing parting lines or other blemishes.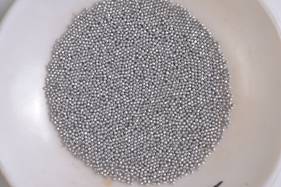 Production technology
1. According to German vdfi 8001 / 2009 and American SAE j441, ams2431 standards, the aluminum wire is accurately cut into cylinders (English Name: "Al cut wire shot");
2. Through the round polishing machine, according to the specified time and the advanced two screening and filtering process, the aluminum shot (English Name: "conditioned aluminum cut wire shot", literally translated as: "passivated aluminum wire shot"), after screening and filtering, ensure that there are no impurities, irrelevant specifications and other substances in the bulk goods
♦ Quality: strict control of raw materials and the production process;
♦ Advanced technology, best quality, defect detection, quality control reputation first, good after-service;
♦ No delamination, inclusion ,and other defects;
Characteristic
1. Our company's regular specification aluminum shot can reach 0.8mm, and the 0.4-0.6 technology has met the production requirements and can be customized;
2. The incision is smooth and the appearance is bright. After multiple screening, the particle size of the product is even;
3. The aluminum shot has low hardness and corrosion resistance. It can whiten and brighten the surface of the workpiece without wearing the surface of the product, and will not produce side effects such as corrosion;
4. In addition to the conventional pure aluminum shot, our company can make all kinds of alloy aluminum shot.
Key Specifications :
| | |
| --- | --- |
| Name | Aluminum shot /cut wire shot |
| Chemical composition | Al:≥99% |
| Micro hardness | 45~50HV |
| Tensile strength | 80~240Mpa |
| Owen's life | 6500 times |
| Microstructure | Deformed α |
| Density | 2.7g/cm3 |
| Bulk density | 1.5g/cm3 |
Application :
1. Surface treatment
2. Obtain profile pattern
3. Shot peening
4. Shot blasting
5. Grit removal
6. Pre treatment
7. Rust removal
8. Blast cleaning
---
Previous:
Bearing Angular Steel Grit
---
Write your message here and send it to us